Skwentna Roadhouse is tucked away in the Alaska Range. Located 65 miles Northwest of Anchorage, this very remote area is also nestled between the Yentna and the Skwentna Rivers. Here, you'll find plenty of fish, wildlife & beautiful scenery to fill your senses and fulfill your sense of adventure.
The lodge has catered to adventure seekers for nearly 40 years. Originally built in the late 1980's to house school children, but at around the turn of the century the school closed and re-opened as a fishing & hunting lodge, and we've been here ever since. It is a true "Diamond in the Rough," and is the Best Kept Secret in Alaska's outback – a popular hotspot for the Alaskan adventurer.
The Roadhouse is accessible only by snow machine, fat tire bike, boat, or aircraft. In fact, in our very own front yard, there is an Alaskan State owned and operated runway which allows for small airplanes to arrive and depart throughout the year – of course, that's depending on weather. The runway was built originally for the Lend Lease program during WWII and we are very lucky to have access to it!
The Skwentna Roadhouse can sleep 35 comfortably, and the recently remodeled dining room seats about 40 people. Whether you are with a group of people or traveling solo, you'll love the hospitality and great home-cooked meals prepared by the owner, Cindi Herman. So come on in, grab a cup of hot coffee or a beer from the fully stocked bar and a chair, Cindi would love the company.
Speaking of Cindi – what can we say about her? Well, she is the owner and face of the Skwentna Roadhouse. Born and raised in Alaska, she embodies what it means to be a true Alaskan. She has more strength, grit, and determination in her pinky finger than most people have in their entire body. Cindi is an avid hunter, fisherwoman, and all-around outdoors enthusiast. She is also a U.S. Army Veteran, and staunch supporter of our troops!
She purchased the lodge in 2010 and has lived here ever since. She's put her heart and soul and vision into the Skwentna Roadhouse and it shows. She's often heard saying she's living the dream. So, no matter what brings you to the Roadhouse, you'll find yourself emersed in a little slice of Heaven and surrounded by good people. And when you arrive – whether by airplane, boat or snow machine – Cindi – along with her two friendly dogs – will be there to greet you and escort you back to the lodge to begin your adventure!
Remember, If you can dream it… We can make it happen!
Get a Bird's Eye View of the Lodge – and See Why We Call it a Diamond in the Rough!
A Prediction of the Weather?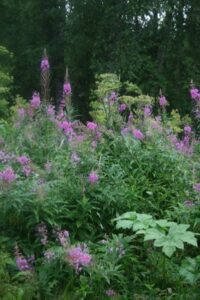 Alaskan folklore has it that the taller the fire weed, the more snow coming in the winter. It also shows how much summer is left – the more pods in bloom the closer to summer's end.
Don't Take Our Word for It!! See What Our Customers are Saying!!
"Thank you so Much for a great visit and wonderful food.
Skwentna Roadhouse is a true Diamond in the Rough.."
Pia Bergquist – Flight instructor & Writer for Flying Magazine
"Thanks for the awesome hospitality and home cooking this was the highlight of the trip"
Steve Ritzi Tampa Bay Florida
"You all made our Alaska Dream come true & then some!!
What a great time we will be back for sure!!"
Dave & Leslie Wilson Fisherman/guests San Diego California
God Bless Our Troops!
We would like to thank all of our military personnel for their service!
Thank you for all that you do!!
Please contact us for your next adventure and get 10% off.